Drug abuse is a serious social problem worldwide. In Japan, the number of people arrested for stimulants is still at a high level, and those arrested for cannabis and narcotics related crimes are on the increase. Since 2011, the number of new psychoactive substances, NPS, newly appeared in illicit drug market has severely increased. Abuse of NPS is causing large number of serious incidents and traffic accidents. First chemistry section is responsible for research on the analysis of controlled drugs, forensic toxicology and related caseworks.
Research and development of drug analysis
Analytical methods have been developed for identifying various types of drugs, including those expected to be abused in the future, using the latest analytical technologies. The drug characterizations of methamphetamine and other drugs have been studied for identifying the sources of supply and trafficking routes (Drug profiling).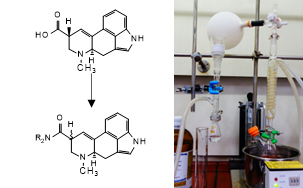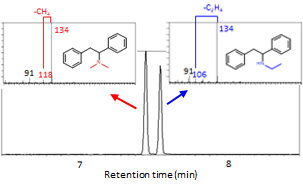 Study on drug disposition
In order to demonstrate drug abuse, it is necessary to identify the drug and/or its metabolites in biological specimens obtained from the suspect. Highly-sensitive methods for drug identification in biological samples are developed and the disposition of abused drugs are investigated.