Traffic Bureau

Overview

In 2020, the total number of fatalities caused by traffic accidents was 2,839, the lowest since the National Rural Police, the predecessor of the NPA, started compiling traffic statistics under the current formula in 1948. Total numbers of traffic accidents and persons injured have declined over the past sixteen years.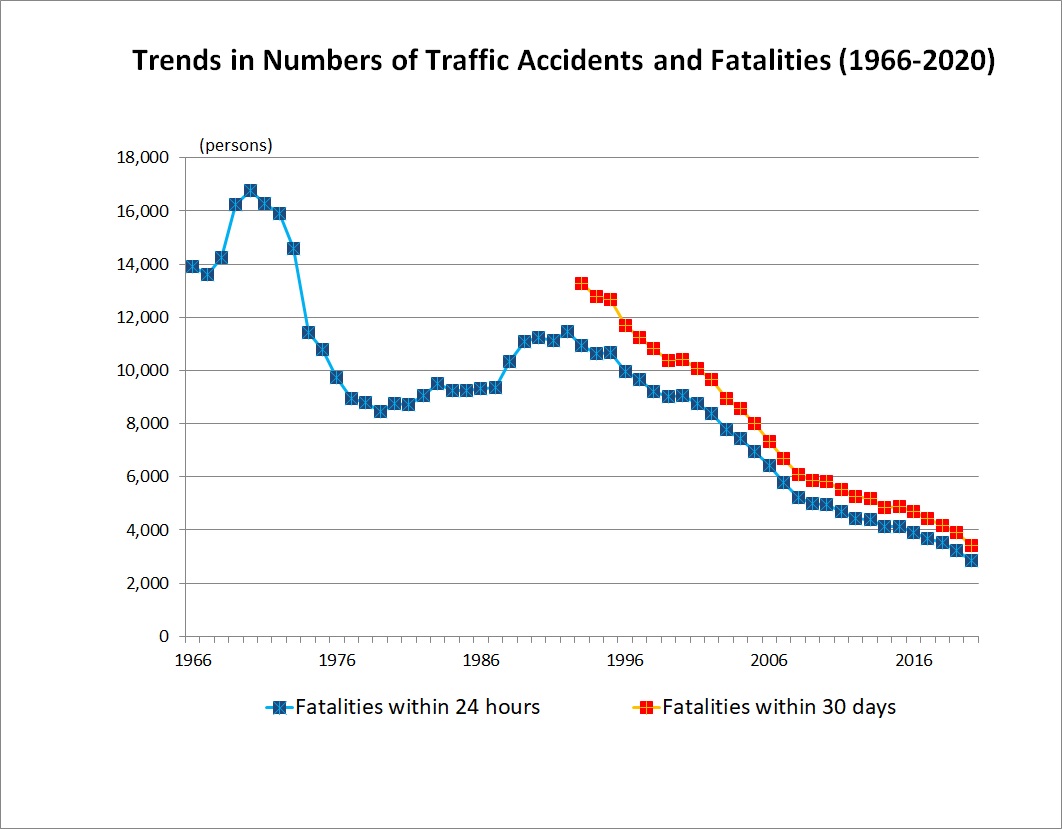 Enforcement
The police analyze traffic accidents precisely and place emphasis on enforcement against vicious and serious violations, resulting in grave accidents including fatal ones, such as unlicensed driving, driving under the influence (DUI) of alcohol, serious speeding violations and ignoring traffic signals. The police also focus on illegal parking and reckless driving by motorcycle gangs (Bosozoku).

Traffic Accident Information
Traffic Rules[English]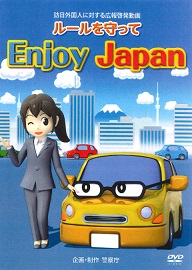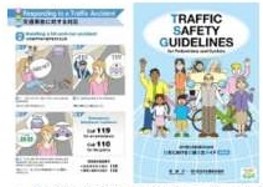 Traffic Rules[Other languages]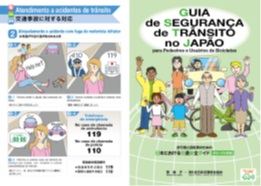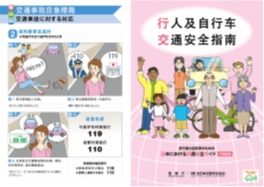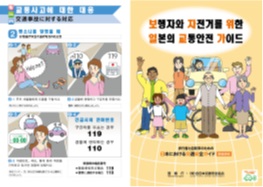 Driver's License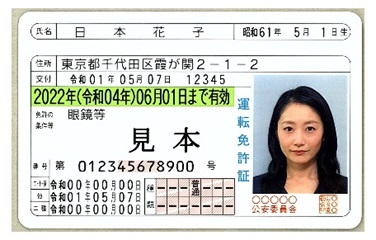 Japanese Driver's License

The police are responsible for driver's license administration. As of the end of 2019, 82,158,428 persons possess driver's licenses.

Driver's licenses are valid for five years unless drivers are novice drivers, have committed traffic violations or caused traffic accidents, or are 70 years of age or older.

At the time of renewal, drivers are required to undergo training according to their respective records of traffic violations and accidents.

Drivers who are 70 years of age or older, are required to undergo training for elderly drivers at the time of renewal. Additionally, drivers who are 75 years of age or older are required to undergo a cognitive assessment in advance. Based on the assessment, elderly drivers will be assigned to undergo the most appropriate training. Further measures can be taken for elderly drivers who show cognitive impairment.

The police can promptly revoke or suspend licenses of drivers who committed serious traffic violations or caused accidents, and require them to undergo additional training.

For Holders of Foreign Driver's Licenses[English]
For Holders of Foreign Driver's Licenses[Other language]
Cognitive Function Test for Senior Drivers
To support the continuation of safe driving, it has become obligatory for drivers who are 75 years old or older to take the Cognitive Assessment prior to the elderly drivers training. Each (such) driver is to take appropriate training according to the test results. The test can be taken for the six months before the expiration of the driving license renewal period.

The Cognitive Assessment for Senior Drivers is a paper test to measure adequacy of a driver's cognitive functions for driving. The assessment consists of a) temporal orientation, b) cued recall, and c) clock drawing test (CDT). The whole process of testing, marking and notice of results takes approximately 30 minutes. No preparation is needed as the trained examiners will guide the examinees through the process. Based on the test results, driver's cognitive functions are categorized as impaired, slightly impaired or unimpaired.

Sample English versions of the Cognitive Assessment sheet and the guidance are downloadable from here.

Test Sheets (23KB) [Published: April 1, 2020]
Guidance (pattern A) (214KB) [Published: April 1, 2020]
Guidance (pattern B) (173KB) [Published: April 1, 2020]
Guidance (pattern C) (249KB) [Published: April 1, 2020]
Guidance (pattern D) (228KB) [Published: April 1, 2020]
How the Test was Scored (16KB) [Published: April 1, 2020]
・「Notificton of Traffic Violation」