Commissioner-General's Secretariat

SUPPORT FOR CRIME VICTIMS
1. Support for Crime Victims
The police are working to enhance diverse aspects of support for crime victims and their families, or bereaved families. The following are examples of police support for crime victims and their families:

A. Benefit Payments to Victims
The national government makes benefit payments to victims and their bereaved families for serious harms caused by crimes.

B. Providing Information for Crime Victims
The police have prepared a brochure which outlines the investigative proceeding and their support system for the crime victims.

C. Reducing Victims' Burden
Crime victims and their families not only suffer physical, emotional, or financial harms as direct results of the crimes, but also undergo a wide range of harms through secondary victimization. Police officers receive training on treatment of victims to reduce their burden. Police stations have rooms that are furnished, lighted, and decorated where victims can consult with police officers in a relaxing atmosphere. The police also provide many other support services for victims including accompaniment to hospitals or to courts upon request.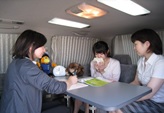 Special vehicle for supporting crime victims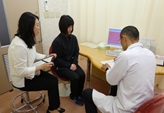 Accompanying victims to hospital
D. Providing Counseling for Victims
To help alleviate the emotional injuries of victims, the police, in cooperation with psychiatrists and private counselors, provide counseling services for victims.

Counseling by police officers

E. Securing Safety of Victims
The police take various measures for protection of victims including enhancement of patrols.

2. Cooperation with Private Organizations for Victims Support
Private victim-support groups provide services including counseling and accompaniment to hospitals or to courts, and carry out public awareness-raising activities. The police and private groups work together in order to support victims and achieve their recoveries.
Policies for Crime Victims,etc.
INTERNATIONAL COOPERATION
In 2019, a total of 2 long-term experts and 3 short-term experts from the Japanese police were sent to Indonesia to support improvement of the Indonesian police's capacities to fight against crime by sharing techniques and know-how, and by introducing the Koban system.
The Japanese police experts were also sent to Timor-Leste in 2011 and from 2013 to 2015 to provide advice and guidance on community policing.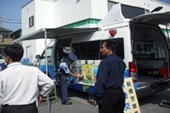 From 2011 to 2014, judo instructors from the Japanese police were sent to Turkey to train the Afghan police officers in a program hosted by the Turkish police. In 2015, short-term experts from the Japanese police were sent to Turkey to support training for young Afghanistan female police officers.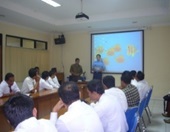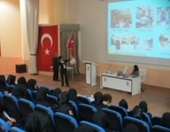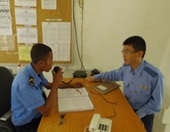 2.Contributions of the Japan Disaster Relief Team (JDR)
The Japanese police send out its officials to foreign countries in times of large-scale disasters as members of the JDR team. Since 1987, Japanese police officials have joined the JDR team on 16 occasions for rescue operations, and three times as members of the search support experts team or forensic experts team. Most recently in February 2018, the Japanese police sent out 2 officials to an earthquake-struck area of Taiwan.
Internatonal Disaster Relief Activities by the Jananese Police
Month & Year
Country/Region
Disaster
Dispatched
June 1990
Iran
Earthquake
6 persons
July 1990
Philippines
Earthquake
11 persons
December 1993
Malaysia
Building collapse
11 persons
October 1996
Egypt
Building collapse
9 persons
January 1999
Colombia
Earthquake
15 persons
September 1999
Taiwan
Earthquake
45 persons
May 2003
Algeria
Earthquake
19 persons
February 2004
Morocco
Earthquake
7 persons
December 2004
Thailand
Tsunami
20 persons
October 2005
Pakistan
Earthquake
15 persons
May 2008
China
Earthquake
20 persons
October 2009
Indonesia
Earthquake
21 persons
February 2011
New Zealand
Earthquake
43 persons
April 2015
Nepal
Earthquake
23 persons
September 2017
Mexico
Earthquake
23 persons
February 2018
Taiwan
Earthquake
2 persons
Responding to the Surge of Foreign Visitors to Japan
International Cooperation
The mechanism of the Police Detention Administration
Threats in Cyberspace
Lost and Found