1. Outline of North Korea's Espionage Operations in Japan
Geographically, Japan is located in close proximity to the Korean Peninsula, with over 600,000 South and North Koreans living in Japan due to the historical background between these countries. For these reasons, North Korea sees Japan as a critical site for spy activities and has thus far engaged in various espionage operations in Japan.
Regarding the activities of North Korea's spy boats in particular, judging from the appearance of the boats discovered in the "Mihama Incident" of 1991 and the "Espionage Boat Incident in the Sea Southwest of Kyushu" of 2001, as well as from the numerous items of evidence found inside the boats, they were identified as North Korean spy boats. It is suspected that a significant number of North Korean spy boats besides these two have been entering the territorial waters of Japan.
Also, comprehensively judging from past cases of arrests and other information, the North Korean spy boats appear to be operating with the objective of having the agents infiltrate and leave Japan in order to abduct Japanese nationals.
As tensions in the Korean Peninsula grow, it is fully expected that North Korean spy boats will continue to conduct illegal activities within Japanese territorial waters in the future.
2. Major Past Incidents and Cases Related to North Korea's Espionage Boats
A. Mihama Incident
In October 1990, a small boat with no registration or name had drifted to the Matsubara Beach of Mihama-cho, Mikata County, Fukui Prefecture.
Judging from the shape, equipment, random numbers table, cipher chart, and other articles left on the scene it was determined to be the small, auxiliar y boat of a Nor th Korean espionage boat used to allow spies to enter and leave Japan.
It was concluded that this incident was an organized and planned case of making illegal entry and exit from Japan by multiple North Korean agents. It made clear the fact that North Korea was still sending agents in through such unofficial and illegal methods.
Additionally, objects that appear to be underwater scooters were found in relation to this incident. An item that is extremely similar to this was also found in March 2001 near the mouth of the Kurobe River of Kurobe City, Toyama Prefecture. It is likely that North Korean agents entered Japan using these objects.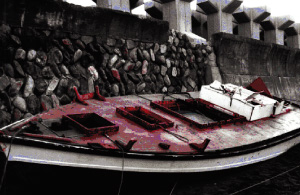 North Korean spy boats that drifted to the Matsubara Beach of Mihama Town, Fukui Prefecture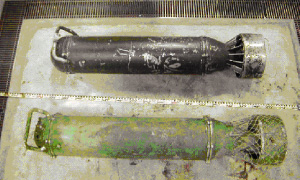 Discovered objects that appear to be underwater scooters
B. Incident of Suspicious Boats off the Coast of Noto Peninsula
Two suspicious boats were discovered in Japanese territorial waters off the coast of the Noto Peninsula in March 1999. The Japan Coast Guard and Maritime Self Defense Force, which received orders to patrol the sea, ordered the ships to stop and sent out warning shots. However, the two suspicious boats ignored these warnings and escaped at high speed.
These boats were cleverly disguised as Japanese fishing boats by using names of Japanese fishing boats that have already been erased from the fishing boat register, or names of Japanese fishing boats that were sailing in other territories at the time. After their escape it is assumed that the ships went to a harbor in the northern part of North Korea. Following comprehensive analysis of the situation, the boats were concluded to have been North Korean spy boats.
This case of suspicious boats made a strong impression on Japan by visibly highlighting the threat that North Korea's espionage boat operations pose.
C. Espionage Boat Incident in the Sea Southwest of Kyushu
In December 2001, a suspicious boat was spotted in the southwest coast of Kyushu. A Japan Coast Guard patrol boat pursued the vessel, ordering it to stop and sending out warning shots. However, the suspicious boat continued to flee and attacked the patrol boat with automatic machine guns and what appeared to be a rocket launcher.
In response, the patrol boat opened fire in selfdefense, and then the espionage boat sank.
This boat was salvaged in September 2002. From the boat, tools used by North Korean agents to enter and escape from Japan, as well as a number of weapons with high killing power and destructive capabilities were found.
The Japan Coast Guard identified the vessel as a North Korean espionage boat, and sent the ten crewmembers to the public prosecutors office on allegations of attempted murder and other counts in March 2003.
This incident made clear the fact that the spy boats of North Korea are becoming more heavily armed, and that we are in a situation in which the activities of spy boats in the waters surrounding Japan could pose an enormous threat to the safety of Japan.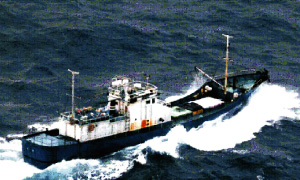 Espionage Boat Incident in the Sea Southwest of Kyushu
(Image provided by the Japan Coast Guard)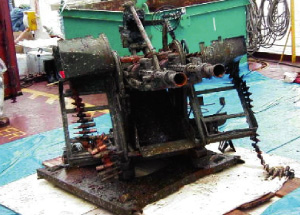 Weapon found during the Espionage Boat Incident in the Sea Southwest of Kyushu
(Image provided by the Japan Coast Guard)