The threat of international terrorism caused mainly by Islamic extremists is increasing, and Japan was named as a target for terrorist attack in statements believed to have been made by Usama bin Ladin. A statement, which was aired in October 2003 on satellite broadcasts in Qatar, warned of continued attacks against the United States, and suggested that attacks would be made on the United Kingdom, Spain, Australia, Poland, Japan, Italy, and Gulf states such as Kuwait. Moreover, in a statement aired on an Arabic website in May 2004, a reward of ten kilograms of gold was offered for killing Mr. Kofi Annan, the United Nations Secretary-General, and others, one kilogram of gold for killing soldiers from the United States or the United Kingdom, and 500 grams of gold for killing persons from allied countries such as Japan and Italy.
In Japan, there are many US-related facilities considered by Islamic extremists as targets for terrorism, meaning that there is the fear that they could be under attack.
Furthermore, as seen by the bomb attacks in Indonesia, the threat of large-scale, indiscriminate terrorist attacks is reaching the Southeast Asian region, which is geographically close in proximity to Japan.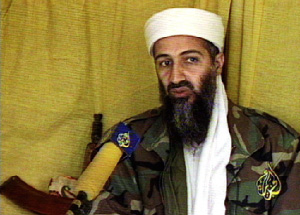 Usama bin Ladin (Photo: Jiji Press)