Suspected Abduction Case of a Japanese Female in Europe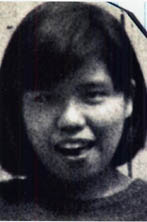 A Japanese female, ARIMOTO Keiko, while studying in England and staying in Europe, went missing around October 1983 after she posted the last mail from Copenhagen, Denmark. She was 23 years old then and her whereabouts have never been confirmed since.
The police pursued all the necessary investigations in the matter including interviews with the people concerned and information exchange with foreign relevant authorities and concluded that they were abducted by North Korean agents, taken to and still kept captive in North Korea.
| | |
| --- | --- |
| ※ | The police, having procured a warrant for the arrest of the "Yodo-go" hijacker, UOMOTO (a.k.a.ABE, former family name) Kimihiro on suspicion of abducting Ms. ARIMOTO, had him placed on the Interpol Wanted List and have consistently demanded through the Ministry of Foreign Affairs his immediate extradition from North Korea. |