HOME
Research and Development
Police Info-Communications Research Center
&nbsp&nbspThe Police Info-Communications Research Center was established in the National Police Academy as a dedicated institute to carry out research and development on the matters regarding info-communications technologies. The Center researches on communications technology, information management and other technologies applicable to police activities, taking into account of needs from the field and of the latest technical trends.
---
Example1 - Study on mobile communications technology
&nbsp&nbspIt is necessary for the police to transmit images of the scene to the headquarters promptly in case of disasters or accidents. So the Center researches on technologies of portable radio communications system in cooperation with other institutes.
---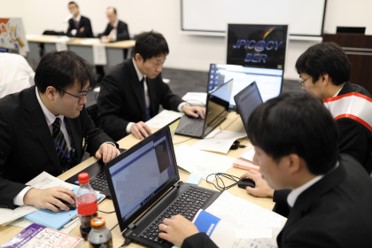 Example2 - Study on sophisticating information management
&nbsp&nbspThis study aims at research and development for identifying a person by image and analyzing big data to be applied effectively to police activities.
---
Example3 - Study on image processing technology
&nbsp&nbspThis study aims at improving the techniques to sharpen images recorded by surveillance cameras and developing the new image processing technology.
Cyber Security Research-Training Center
&nbsp&nbspThe Cyber Security Research-Training Center was established in the National Police Academy as a special institute to research on analysis technique of digital data for countermeasures against cybercrime and train staff. In Analysis Laboratory, cutting-edge ICT which can be abused for cybercrime or cyber attack and analysis technique of electronic device are researched.
---
Example - Study on technologies and procedures for reliable analysis of digital data
&nbsp&nbspThe study aims at analysis of the latest electronic devices such as mobile phone, smart phone or navigation system.