HOME
International Cooperation
International cooperation in the field of digital forensics

Counter-cybercrime Technology and Investigation Symposium
&nbsp&nbspCybercrimes and cyber attacks easily cross national borders, and it is confirmed that incidents in which malware created by foreign criminal organizations is used occur. Also, the innovation in the field of ICT is progressing on a global scale, and the number of cases which utilize electronic devices, etc. manufactured abroad is increasing. To address these circumstances, it is crucially important to grasp the latest technological trends overseas and share information with foreign law enforcement organizations, etc. in order to improve the digital forensic capabilities. To this end, the NPA is making efforts to promote international cooperation with foreign law enforcement organizations and others for effective information sharing, etc.
&nbsp&nbspAs part of such efforts, in order to facilitate information sharing among digital forensic experts, etc. from law enforcement organizations, etc. in Asia-Pacific region, and improve the digital forensic capabilities through discussions and hands-on trainings, the NPA has been annually organizing and hosting an international conference, CTINS (Counter-cybercrime Technology and Investigation Symposium), since 2001.
&nbsp&nbspAt the 18th conference held in November, 2017, discussions and presentations regarding more effective and/or advanced technique of digital forensic analysis and international/public-private cooperation, and a hands-on training regarding digital forensics that utilize machine learning technique were held.
---

Meetings with digital forensics experts from law enforcement organizations
&nbsp&nbspAlso, the NPA has been trying to collect technical information, deepen cooperation with other countries and further strengthen the ability to deal with cybercrimes through having presentations or discussions at international meetings on digital forensics, and holding the experts' meetings with the counterparts abroad, such as the Netherlands Forensic Institute.
&nbsp&nbspAdditionally, the NPA has been working at enhancing multilateral cooperation and sharing information by participating in conferences such as G7 Roma-Lyon Group High-Tech Crime Subgroup.
Other international efforts in the field of digital forensics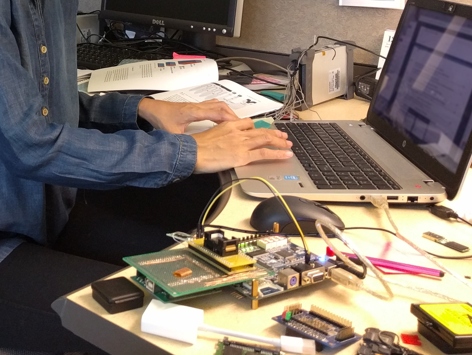 &nbsp&nbspThe NPA sends staffs to universities abroad to conduct research on digital forensics. Recent themes focus on effective analysis of foreign made electronic devices, broken electronic devices and IoT (Internet of Things) etc. Additionally our staffs participate in trainings offered by organizations overseas to learn the state-of-the-art forensic techniques.
I-24/7
&nbsp&nbspThe International Criminal Police Organization (ICPO – Interpol) is the world's largest international police organization with 190 member countries and areas. It facilitates cross-border police cooperation to prevent or combat international crime. Interpol has its own independent and secure global communications network named "I-24/7 (Interpol Global Communications System 24/7)". Member countries and areas are able to access Interpol's various databases such as stolen motor vehicle, stolen/lost travel document, etc. and communicate each other through I-24/7.
&nbsp&nbspThe NPA also connects to I-24/7 with secure system so that international investigation officers could use those databases efficiently. Info-Communications section maintains and operates the system 24 hours and 7 days and contributes to the relevant crime investigations conducted in the country.
Support for Foreign Police Organizations
&nbsp&nbspThe NPA promotes international cooperation in accordance with its policy for international cooperation. Supporting foreign countries makes those countries safer and prevents them from being crime's loopholes. Consequently, it leads to preserve the peace not only in those countries but in Japan. Info-Communications section supports foreign countries actively in terms of transfer of accumulated knowledge and techniques of Japan.
&nbsp&nbspOne of those cooperation is "Knowledge Co-Creation Program on Countermeasures against Cybercrime" which is conducted with Japan International Cooperation Agency (hereinafter referred to as the "JICA").
&nbsp&nbspCybercrime is one of the most rapidly spreading crime in the world. It occurs in any countries and areas, and crosses the borders easily. Hence, it becomes a global concern.
&nbsp&nbspThe NPA promotes not only transfer of knowledge and techniques but also strengthening relationship of mutual cooperation through the JICA program.
&nbsp&nbspProgram participants learn how Japanese police deal with cybercrime regarding investigative and technical countermeasures, cooperation with private companies and academia, public relations and international cooperation. These experiences lead them to recognize their country's situation and problems. At the end of the program, they make feasible solution as "Action Plan". They are expected to implement their plan after back to their country.
&nbsp&nbspThe NPA and the JICA have received reports from some participants of past program. They have carried out their goals such as activities for public awareness, cooperation among industry, government and academia, improving equipment and increasing number of cybercrime related officers. Info-Communications section contributes to safer world through those kinds of international cooperation.